Winemaking History
1991- First batch of blackberries made into wine.

1992- Blackberry recipe finalized.

1993-- Cleared land to begin a world class winery.

1994--Planted early season wihite and red grape starts. Madeline Angevine and Siegriebbe,

Vineyard Notes

1995-1998 -- Cultivated vines to maturity. Designed and installed customized three zone timer operated drip watering system. The drip system features underground distribution to drip hose risers at the end of each of the 12 rows.

1999- First taste of Madeline Angevine vines show a good stock, well suited to the western washington climate. Cultivated starts into new rows. Fine tuned drip watering for optimum results.

2000- Obtained first 30Lb from the Madeline Angevine vineyard and made one case of bottles.

2001- Added a drip watering system. Controlled by automatic timer system. More yields of our own grapes.

2002-Earl conceived the "Bent Ladder" winery label. From the bent ladder on the creek trail.

2001-2005 Continued to cultivate and manicure the vines. wow! This is a lot of work! Yields still very dependent upon weather and animals.

2005-2007 Vines are really starting to mature. Main job is trimming and keeping the vines straight and more trainiong of the new growth.


2002 Bent Ladder Bottling Label Award Winner 2001-2003.

More about the
"Bent Ladder"
The Valhalla Winery produces about 15-20 cases of "Estate Reserve" wines per year.

Valhalla winemakers are actively working a plan to expand our cultivation of grapes. Four new rows were planted in 1999, 2 new terrace rows in 2000.

Valhalla Winery now cultivates approximately 1/2 acre in Western Washington "early season" white and red wine grapes. Valhalla winemakers have been working with fruit wines along with grape wines.

Among our best are the Light Peach and Light Plum wines made from fresh Washington fruit each fall.

The Valhalla Winery has been producing superior wines since 1990. The winery continually wins some of the highest awards given by the Boeing Winemakers Club for grape and fruit wines. Among our best is the Light Bodied, Dry Blackberry wines made from local Valhalla blackberries.

North Vineyard White and Red
Planted in 1994, this plot features both Madeline Angevine and Siegriebbe Vines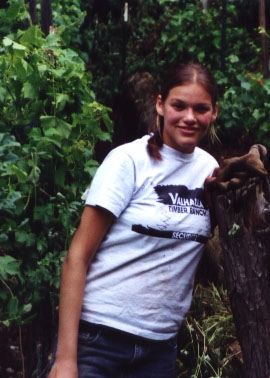 Shannon working on the trimming
Earl harvesting Concord from our Haller Lake vines


| | |
| --- | --- |
| 1998 Ribbon Winner | 2002 Ribbon Winner |